Basketballs Aweigh!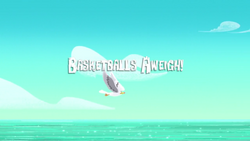 Previous Episode:Yo Ho, Food to Go! Next Episode: The Sky's the Limit!
Characters Present
Plot
Jake and the pirate kids are playing basketball on the Good Ship Bucky. Cubby needs practice making a basket, so Izzy helps him by sprinkling Pixie Dust on the ball. Unfortunately, it causes the basketball to float away. Captain Hook ends up catching the ball, and he refuses to give it back until a wave washes it away. Jake and his crew go in search of getting their ball back, and Hook challenges the pirate kids to a basketball game.
Ad blocker interference detected!
Wikia is a free-to-use site that makes money from advertising. We have a modified experience for viewers using ad blockers

Wikia is not accessible if you've made further modifications. Remove the custom ad blocker rule(s) and the page will load as expected.