Bones' Lucky Doubloon!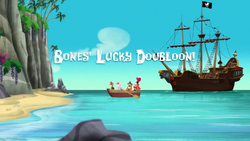 Previous Episode:Misty's Magical Mix-Up! Next Episode: Jake's Royal Rescue
Characters Present
Plot
Bones enlist the help of Jake and his crew to find the lost treasure of Queen Hipporlita with the aid of his grandfather lucky gold doubloon, which Captain Hook doesn't believe in luck as he follows Bones and the puny pirates to the treasure.
Ad blocker interference detected!
Wikia is a free-to-use site that makes money from advertising. We have a modified experience for viewers using ad blockers

Wikia is not accessible if you've made further modifications. Remove the custom ad blocker rule(s) and the page will load as expected.