Captain Needs a Hobby
Originally performed by
Composer
Loren Hoskins and Kevin Hendrickson
Lyrics
Loren Hoskins and Kevin Hendrickson
Performer(s)
Loren Hoskins and Kevin Hendrickson
Films
Shows
Attractions
Video games
Albums
Preceded by
Followed by
Video
[Source]
Captain Needs a Hobby is the name of a song that plays in the episode "Captain Hook's New Hobby" where Captain Hook asks Mama Hook and his crew to find a good hobby for him to do when Mama Hook tells James that if he gets an actual hobby, he might find treasure faster.
Lyrics
Both: Our captain needs a hobby
Sharky: A pirate pastime just for him
Bones: That he wouldn't be so cranky
Sharky: Let's try a few and see what sticks
Sharky: Why not try collecting stamps
Bones: Or learn some pirate polka dance
Sharky: Tying knots
Bones: Climbing rocks
Sharky: Or maybe yodel-aing
Captain Hook: (talking normal) Yodel-a-i-oo!
Both: Captain needs a hobby
Sharky: Build a ship inside a bottle
Bones: Maybe or a fashion model
Both: Captain needs a hobby
Bones: Jogging, hiking, mountain-biking
Sharky: Why not dress up like a Viking.
Bones: He could juggle cannonballs
Sharky: In a barrel over never falls
Bones: There'll be a piraty hobby
Both: Just for you
Music Video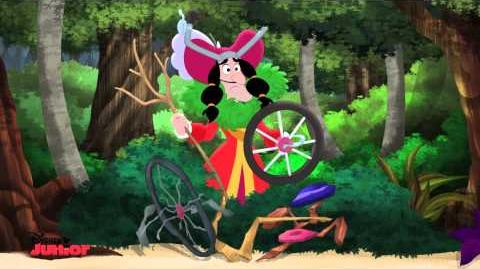 Errors
With captions, when Sharky says "Build a ship inside a bottle", it says "Build a ship inside a model".
Ad blocker interference detected!
Wikia is a free-to-use site that makes money from advertising. We have a modified experience for viewers using ad blockers

Wikia is not accessible if you've made further modifications. Remove the custom ad blocker rule(s) and the page will load as expected.