Cubby's Crabby Crusade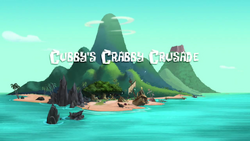 Previous Episode: Pirate Genie Tales Next Episode: The Never Sands of Time
Characters Present
Plot
King Crab and his crab minions kidnap Cubby, after mistaking him for Jake, and take him to King Crab Island. Despite Cubby's protests, King Crab doesn't believe that he's not Jake and asks for help to stop Captain Hook from stealing their most precious treasure, The Golden Claw. Cubby starts coming up with plans to stop Hook and has the opportunity to show himself as a true hero.
Screenshots
Ad blocker interference detected!
Wikia is a free-to-use site that makes money from advertising. We have a modified experience for viewers using ad blockers

Wikia is not accessible if you've made further modifications. Remove the custom ad blocker rule(s) and the page will load as expected.