Hook Seals a Deal!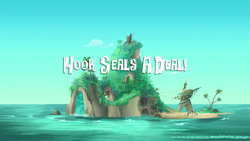 Previous Episode:Jake's Starfish Search Next Episode: The Emerald Coconut
Characters Present
Plot
Jake and his mateys prepare for a beach party when they find that some of their things were missing. At first they think it was Captain Hook, who finds that his rubber ducky was missing too. So, while the Jolly Roger is being repaired, Jake and Hook team up to find whoever it was who's been taking their things from them. They find that it was a seal who likes to juggle. Can Jake and his mates get the seal and Hook to give everything back?
Ad blocker interference detected!
Wikia is a free-to-use site that makes money from advertising. We have a modified experience for viewers using ad blockers

Wikia is not accessible if you've made further modifications. Remove the custom ad blocker rule(s) and the page will load as expected.