Hook on Ice!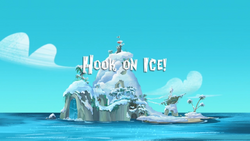 Previous Episode:It's a Winter Never Land! Next Episode: Peter Pan Returns
Characters Present
Plot
Snow has covered Never Land, and Jake and his crew are enjoying a wintery day. Captain Hook and his crew want to go in search of the snow day treasure, but Hook's snow gear sinks to the bottom of the Never Sea. So, Captain Hook decides to ask Jake and his mates to share their snow gear and invites them to go on the hunt for the winter snow day treasure.
Ad blocker interference detected!
Wikia is a free-to-use site that makes money from advertising. We have a modified experience for viewers using ad blockers

Wikia is not accessible if you've made further modifications. Remove the custom ad blocker rule(s) and the page will load as expected.