Jake's Jungle Groove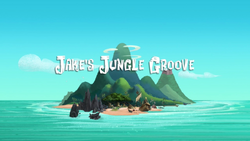 Previous Episode:The Elephant Surprise! Next Episode: The Golden Egg
Characters Present
Plot
The pirate kids plan on having a dance party with Marina the Mermaid, and Jake learns how to dance by moving to the beat of Peter Pan's old bongos that Cubby plays. Even Captain Hook couldn't keep himself from dancing to the beat of Cubby's bongos, and he wants to take them away to stop himself and Jake's crew from dancing. Unfortunately, a monkey steals the bongos from Hook and wouldn't stop playing them as he flees into the Never Land Jungle. Will the pirate kids get Cubby's bongos back, and will Jake learn to do the Skullenbones Stomp before the party?
Ad blocker interference detected!
Wikia is a free-to-use site that makes money from advertising. We have a modified experience for viewers using ad blockers

Wikia is not accessible if you've made further modifications. Remove the custom ad blocker rule(s) and the page will load as expected.