Jake's Royal Rescue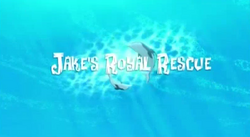 Previous Episode:Bones' Lucky Doubloon! Next Episode: F-F-Frozen Never Land!
Characters Present
Plot
While traveling the depth of the Never Sea Queen Coralie the leader of Neptune City is capture by Captain Hook and his crew as a ransom for the mermaids treasure.Meanwhile Marina and the mermaids prepare a show in Queen Coralie's honor when Jake and his crew soon arrive with gifts for the queen when the recessive a message in a bottle from Hook demanding a treasure for Coralie's safe return.Jake and his crew soon set a course to rescue her. But Captain Hook soon regrets capturing her as the queen's ego was to much for him to bare he willing hand her over to Jake and his crew much to their surprise.
Ad blocker interference detected!
Wikia is a free-to-use site that makes money from advertising. We have a modified experience for viewers using ad blockers

Wikia is not accessible if you've made further modifications. Remove the custom ad blocker rule(s) and the page will load as expected.