Never Sky
Originally performed by
Composer
Loren Hoskins and Kevin Hendrickson
Lyrics
Loren Hoskins and Kevin Hendrickson
Performer(s)
Loren Hoskins and Kevin Hendrickson
Films
Shows
Attractions
Video games
Albums
Preceded by
Followed by
Video
[Source]
Never Sky is a closing song featured in the Disney Junior series Jake and the Never Land Pirates. The song is sung by Sharky and Bones.
Lyrics
Sharky: Oh, oh, oh, oh ♪ - [sneezes]

Oh, oh, oh, oh ♪ - Tickles your nose a little bit.

Like a seagull we fly Or a kite on a string

Away through the Never Land sky

We're flying away Above everything

Away to the Never Land sky

The Never Sky

Oh, up to the Never Sky

Now, Izzy, she knows When the time is just right

Away to the Never Land sky

Just send us aloft On a pixie dust flight

Away to the Never Land sky
Music Video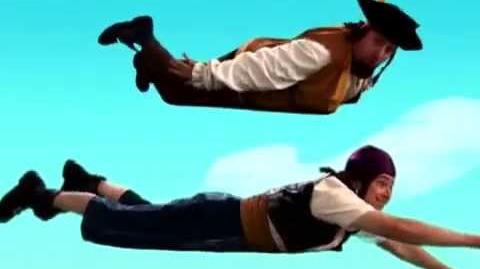 Ad blocker interference detected!
Wikia is a free-to-use site that makes money from advertising. We have a modified experience for viewers using ad blockers

Wikia is not accessible if you've made further modifications. Remove the custom ad blocker rule(s) and the page will load as expected.