Pirate-Sitting Pirates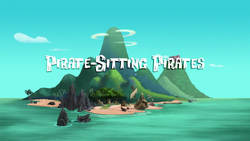 Previous Episode: Trouble on the High Sneeze Next Episode: Smee-erella!
Characters Present
Plot
While enjoying a snack on the beach Jake, Izzy, Cubby and Skully meal was interrupted by a mischievous monkey who steals Skully's crackers forcing the pirate parrot to give chase with Jake and his crew in pursuit. Meanwhile Captain Hook and his crew were on the search for treasure using his treasure detector when the mischievous monkey swipes Hook's hat forcing the captain to join the chase but in the captain's pursuit Hook steps on Tick-Tock's tail enraging the ravenous reptile to chase after the pirates until they all skid out of control into the Pirate Pool of Youth transforming them into babies.Forcing Skully,Mr. Smee, Sharky and Bones to take care of the young pirates as they journey to the Flora Forest and find the Grandfather Gladiola transform everyone back to normal.
Screenshots
Ad blocker interference detected!
Wikia is a free-to-use site that makes money from advertising. We have a modified experience for viewers using ad blockers

Wikia is not accessible if you've made further modifications. Remove the custom ad blocker rule(s) and the page will load as expected.