Pirate Pogo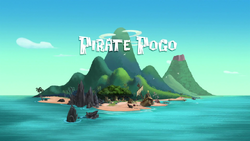 Previous Episode: A Royal Misunderstanding Next Episode: The Sneaky Snook-Off
Characters Present
Plot
Jake
and his crew try to find the lost treasure of the legendary pirate pogo rocker Captain Ramone after uncovering his musical map.Jake knew if anyone on
Never Land
could help them find the musical treasure it be
Sharky
and
Bones
. Meanwhile Sharky and Bones were looking for treasure
Captain Hook
aboard a old shipwreck when Jake and his crew ask for their assistants.Sharky and Bones were happy to help the sea pups,providing them with costumes and musical instruments fitting of pirate pogo rocker.Captain Hook soon becomes aware of this and refused to have his crew waste their time when they can be looking for treasures.Sharky and Bones assured Hook they were looking for Captain Ramone's treasure.Hook reluctantly joins the fun to find the treasure.
Ad blocker interference detected!
Wikia is a free-to-use site that makes money from advertising. We have a modified experience for viewers using ad blockers

Wikia is not accessible if you've made further modifications. Remove the custom ad blocker rule(s) and the page will load as expected.