Pirates of the Desert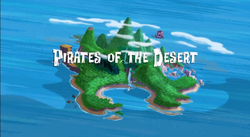 Previous Episode:Mr. Smee's Pet Next Episode: The Great Pirate Pyramid
Characters Present
Plot
Jake
and his crew are walking through the grass in
Windy Cove
on
Never Land
when they find a note. Jake finds out that it is a note from the legendary
Captain Flynn
. They find that he is stranded in the desert and lost his ship the
Barracuda
. The crew set out to find him but
Captain Hook
and
Mr. Smee
are hiding and they hear the crew talking about Flynn. Captain says that he wants to be the only legendary captain in Never Land. The crew soon find Captain Flynn in the desert. He was riding his camel that he named
Camille
. He greeted the crew and told them about how he had gotten stranded in the desert. The crew agreed to help him find his ship that was lost in the desert. They tracked it down and finally found it but just as they were about to go aboard Captain Hook and Smee ran up in front of them. Captain says that he is going to steel the ship but Jake tells Camille to get him off. Once Hook and Smee were off the ship Captain Flynn, Jake, and his crew all came aboard the Barracuda. Jake and his crew returned to
Pirate Island
and Flynn asked if he could keep his ship there for a little while so that he could fix it. The crew agreed so he got to work immediately.
Ad blocker interference detected!
Wikia is a free-to-use site that makes money from advertising. We have a modified experience for viewers using ad blockers

Wikia is not accessible if you've made further modifications. Remove the custom ad blocker rule(s) and the page will load as expected.