Pixie Dust Away!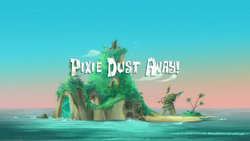 Previous Episode:Mama Hook Knows Best! Next Episode: Captain Hook's Lagoon
Characters Present
Plot
It's Pixie Dust Away Day, but Izzy loses all her pixie dust in the Never Sea. The Pixie Fairies tell them they can get more pixie dust from the Forever Fountain, so Jake and his mates set a course to get more. However, Captain Hook wants some pixie dust for himself as well. Can Jake and his crew make it there first or will they be sunk without their pixie dust?
Ad blocker interference detected!
Wikia is a free-to-use site that makes money from advertising. We have a modified experience for viewers using ad blockers

Wikia is not accessible if you've made further modifications. Remove the custom ad blocker rule(s) and the page will load as expected.