Sandy and the Clams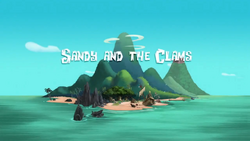 Previous Episode: Follow the Bouncing Bumble! Next Episode: Jake's Never Land Rescue
Characters Present
Plot
Sandy the Starfish and his singing clam trio put on a show, but Mr. Smee takes the clams thinking they are regular seashells, and uses them as decorations for Captain Hook's date with Red Jessica. Jake and his crew try to get the clams back, but Hook tries to stop them, thinking they want the pearl necklace he wants to give to Red Jessica.
Ad blocker interference detected!
Wikia is a free-to-use site that makes money from advertising. We have a modified experience for viewers using ad blockers

Wikia is not accessible if you've made further modifications. Remove the custom ad blocker rule(s) and the page will load as expected.