Shark Attack!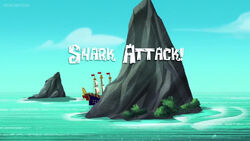 Previous Episode: The Doubloon Monsoon
Next Episode: Captain Hook's Colossal Collision
Characters Present
Plot
Dr. Undergear has returned and this time, he attempts to sink the Mighty Colossus by using his Shark Ship so that he can use the parts to make his own inventions together with a Shark Sword in his hand. Jake and his crew must prevent Dr. Undergear and his inventions from trying to sink their ship.
Ad blocker interference detected!
Wikia is a free-to-use site that makes money from advertising. We have a modified experience for viewers using ad blockers

Wikia is not accessible if you've made further modifications. Remove the custom ad blocker rule(s) and the page will load as expected.