" Look, a hermit crab! He tickled me. The shell is his home."
―Izzy
Snappy is a character from the Disney Junior series Jake and the Never Land Pirates. He's a little hermit crab that inhabits pink, purple spotted shell. He is also good friends with Marina and Stormy. His vocal effects are provided by Russi Taylor.
Role in the series
Snappy first appeared in the episode The Old Shell Game After thwarting Captain Hook's plan to steal the shell from the sea pups.Jake and his crew return to Pirate Island were they learn the shell was the home of a Hermit Crab so Izzy set him free.
The Hermit Crab would later return in the episode "The Mermaid's Song" also in the episode the crab's name was reveled as Snappy he tag along with Stormy the mermaid as her brief partner-in-crime while the young mermaid use the power of the "Mermaid's Song" to hypnotize Captain Hook,Mr. Smee and Cubby. Snappy the Hermit Crab, would later rush off to warn Marina about her sister abusing the power of the mermaid song.
Snappy makes a brief cameo in the episode "Captain Who?" as Jake and his crew try to restore Captain Hook's memory they presented the captain with a treasure chest along with but the amnesia striking Hook couldn't care less for the riches and just give the little crab a hug before the crew tried next stop.
Snappy makes a brief appearance at the end of "Treasurefalls!" retrieving Cubby's lost Skull-N-Bones marble from the bottom of Never Sea and returns it back to Cubby.
Snappy reappears in the episode "Jake's Royal Rescue" rehearsing a song with Sandy the Starfish and Stormy in Queen Coralie honor held at Hidden Cove. After Queen Coralie is rescued by Jake and his crew from Captain Hook and return to Hidden Cove Snappy can be spotted successfully singing with Sandy,Marina,Stormy and the mermaids.
Snappy makes a brief appearance in the episode "Jake's Awesome Surprise", as Captain Hook samples the various food for Jake's party he accidentally pick up Snappy who quickly pinches Hook to defend himself from being eaten.
Episode Appearances
Season One
Season Two
Season Three
Gallery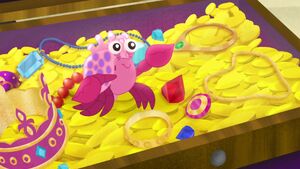 For more pictures and screenshots of Snappy the Hermit Crab, click here.