The Elephant Surprise!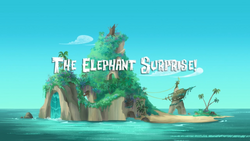 Previous Episode:Rock the Croc! Next Episode: Jake's Jungle Groove
Characters Present
Plot
While Jake and his crew are playing volleyball, Cubby discovers a large wooden elephant. This was to be a gift for Jake and his crew, but Captain Hook and Mr. Smee are hidden inside the elephant. The two scoundrels take off with the crew's treasures after the three put the elephant in their treasure room and leave for lunch. When the pirate kids find that the wooden elephant is rolling away, can they catch up to it and get all their treasures back?
Ad blocker interference detected!
Wikia is a free-to-use site that makes money from advertising. We have a modified experience for viewers using ad blockers

Wikia is not accessible if you've made further modifications. Remove the custom ad blocker rule(s) and the page will load as expected.