The Emerald Coconut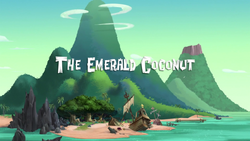 Previous Episode: Hook Seals a Deal! Next Episode: The Golden Twilight Treasure!
Characters Present
Plot
Jake and his crew receive a message from Peter Pan about a legendary Emerald Coconut for Cubby to take a picture of. Unfortunately, Captain Hook steals the coconut to add it to his collection and traps Jake and Izzy in a cage. The only way for them to be free is for Cubby to put back the emerald coconut in its place. But Cubby and Skully get the Emerald coconut back from Hook in the end.
Ad blocker interference detected!
Wikia is a free-to-use site that makes money from advertising. We have a modified experience for viewers using ad blockers

Wikia is not accessible if you've made further modifications. Remove the custom ad blocker rule(s) and the page will load as expected.