The Singing Stones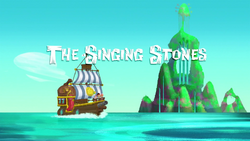 Previous Episode: Trading Treasures Next Episode: The Mermaid Queen's Voice
Characters Present
Plot
While sailing the open Never Sea Jake and his crew overhear singing coming from a near by island were they meet the singing stones family. The singing stones desperately need to return to their home on Singing Stones Island on time before the Peter Pan's comet arrives or they will never end their curse.Jake and his young pirate friends agreed to help by tying the island to Bucky began towing the island.Unaware Captain Hook was spying on them,Hook refuse to allow the puny pirate to have another island and was determined to claim the singing stones island for himself.
Ad blocker interference detected!
Wikia is a free-to-use site that makes money from advertising. We have a modified experience for viewers using ad blockers

Wikia is not accessible if you've made further modifications. Remove the custom ad blocker rule(s) and the page will load as expected.