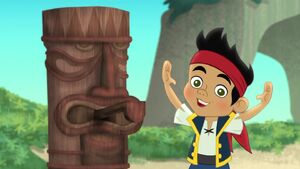 There is a
Tiki
on the out side of the crew's
Hideout
and when the crew push on the Tiki's tounge the palm trees open revealing a door which is the entrence to the Hideout. In the series first episode "Hide the Hideout!
Captain Hook
was once trying to find the crew's hideout to make it his own. he pushed on the Tiki's tounge twice but didn't notice that it revealed a secret hidden door.
Ad blocker interference detected!
Wikia is a free-to-use site that makes money from advertising. We have a modified experience for viewers using ad blockers

Wikia is not accessible if you've made further modifications. Remove the custom ad blocker rule(s) and the page will load as expected.