"Treasurefalls!"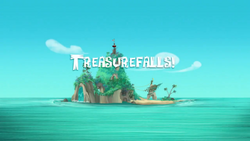 Previous Episode: Pirate Pals Next Episode: Hook's Playful Plant!
Characters Present
Plot
Cubby loses his treasured Skull-N-Bones marble, but in the process finds a map to Never Land's mythical Treasurefalls. The warning on Treasurefalls says: Do not take one treasure or you'll be trapped in there by the trees but Captain Hook ignored that warning until he got tricked by Jake by doing the opposite command.
Ad blocker interference detected!
Wikia is a free-to-use site that makes money from advertising. We have a modified experience for viewers using ad blockers

Wikia is not accessible if you've made further modifications. Remove the custom ad blocker rule(s) and the page will load as expected.