Where's Mama Hook?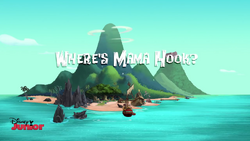 Previous Episode: The Mermaid Queen's Voice Next Episode: Captain Hook's New Hobby
Characters Present
Plot
After losing the jasmine leaves, Mama Hook gets the wrong map and instead of going to Peaceful Valley, she goes to Deep Dark Valley instead and when she gets lost, Captain Hook and Jake join forces to find her. They find her on Topsy Turvy Plains.
Screenshots
Ad blocker interference detected!
Wikia is a free-to-use site that makes money from advertising. We have a modified experience for viewers using ad blockers

Wikia is not accessible if you've made further modifications. Remove the custom ad blocker rule(s) and the page will load as expected.